J J Engineering has a proud reputation of meeting and exceeding our customers' quality needs. We have maintained high ratings for quality, as well as delivery, for major aerospace manufacturers, in addition to earning a 100% acceptable product supplier award for an entire year.
As a respected manufacturer throughout many industries, including aerospace, defense, automotive, space, medical, oil tool and testing, J J Engineering has demonstrated the ability to provide quality parts throughout various industries, often having varying quality requirements.
J J Engineering has a fully implemented Quality Management System, which is both ISO9001:2008 and AS9100C certified by UL Registrar and listed in the OASIS database. Internal Quality Audits are routinely performed to ensure continued compliance with the Quality Management System, as well as regular audits from various 'prime' manufacturers.
In accordance with our Quality Management System, all parts are subject to routine inspection, both 'on the line' as well as final, and AS9102 First Article Inspection reports are available. Our inspections evaluate all requirements of our product, including dimensional requirements, material requirements, and processing requirements. In an effort to accommodate various industries, we are all fully capable and willing to performing specialized inspections, Statistical Process Control procedures, in addition to providing FAI's, or final inspections in any format requested.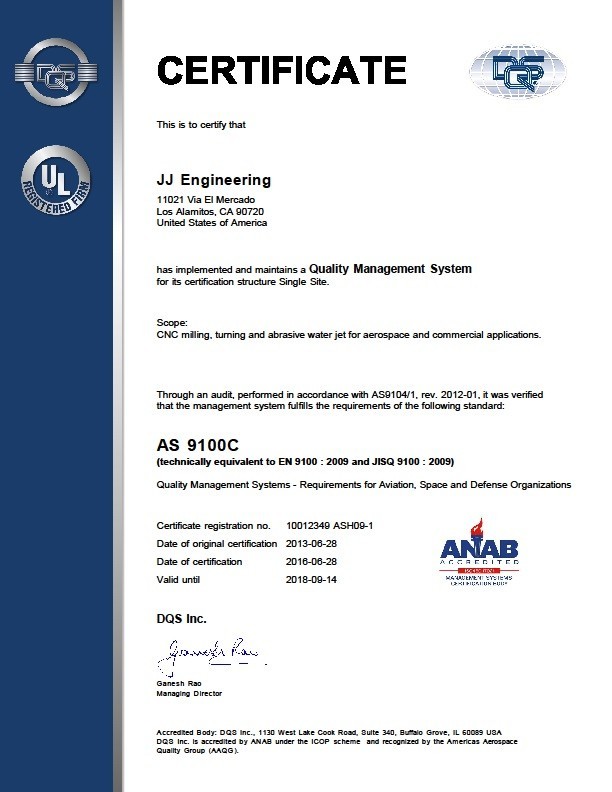 Our quality department has final authority to determine a part's compliance or non-compliance with all applicable customer requirements. Our quality department works well with our customers' needs to ensure that while parts meet all stated requirements, a part's 'fit and function' is also given a top priority. Our goal is to provide 100% useable parts to our customers. Quality also has the autonomy to purchase new equipment as necessary to ensure our ability to keep up with the ever changing marketplace requirements allowing J J Engineering to stay competitive and accurate.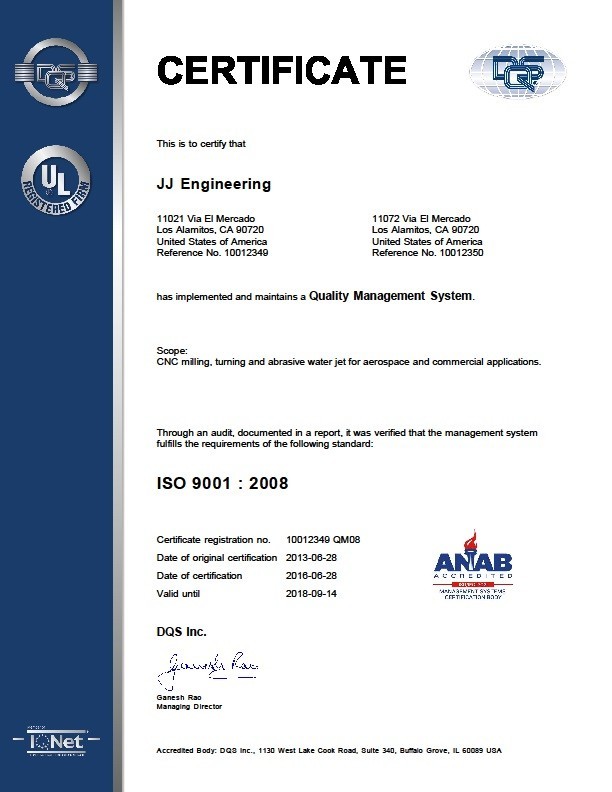 J J Engineering's
QUALITY